SPRING BROWN BEAR HUNT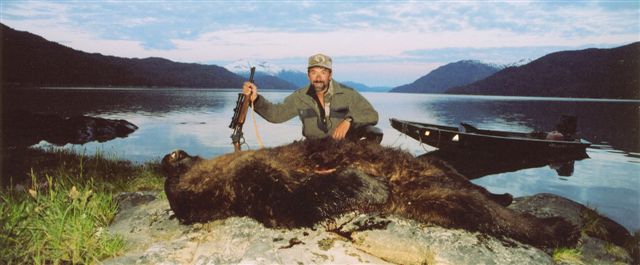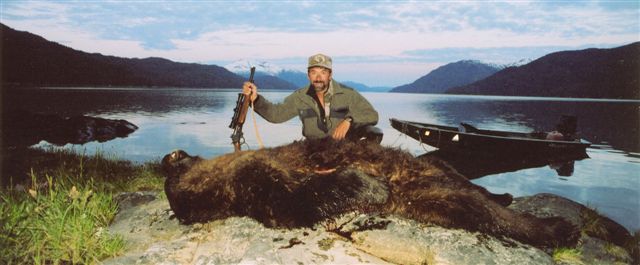 This is a 10-day hunt, conducted in Misty Fiords National Monument in late May and involves glassing the tidal estuaries and nearby shorelines where the big bears can found feeding on grass. All bear hunts are spot and stalk. My brown bear hunters are allowed to take black bear and wolf at no extra charge, as long as they have a harvest ticket and proper tags. We enjoy excellent hunting opportunities in a fantastic wilderness setting. Misty Fiords is well known for it's scenic beauty and offers tremendous wildlife viewing opportunities. The weather will play a factor as with any hunt, but we are often blessed with clear skies and smooth water during this time of year.
You should plan to arrive in Ketchikan a day or two before the hunt is scheduled to begin. You will stay and nice waterfront hotel just outside of town. We will visit the rifle range and take a shot or two to confirm that your rifle is sighted in. This hunt begins with a cruise from Ketchikan into Misty Fiords, through the protected waterway know as Behm Canal. Our operation is based from a comfortable camp and we travel to the nearby  hunting areas each day by skiff. We may travel by larger boat an hour or more each way to hunt secluded bays farther from base camp. It is common for us to move to a 2nd base camp halfway through the hunt, which will give us access to more country and new bears.
The skiffs are powered with outboard jet motors allowing us to travel through the shallow streams to hidden meadows and grass flats that the big bears prefer. The bears are most active in the early morning and late evening. If the tide and wind conditions are right, we will idle the skiff up the river to a vantage point and spend the morning glassing the flats. Otherwise we may run up river "on step" and float back down, stopping periodically to check for sign and glass. We commonly return to base camp midday and check the crab pots along the way. We will enjoy our biggest meal in the afternoon and many hunters take advantage of the break for a quick nap. We go back to the hunting areas in the late afternoon and take a stand on an old root wad or high bank allowing good visibility of the flats. The biggest bears will often come out late in the evening just before dark. We will hunt until there is just enough light to return back to camp.
An average brown bear for this area will square about 8 foot. Occasionally a hunter will take one larger, but it is rare. Most of my hunters come for the experience of hunting in this beautiful area and the relatively pleasant hunting conditions. Anyone looking for a 9-footer or bigger, I direct to hunt the Alaska Peninsula with my good friend Dan Montgomery. Dan's hunts are little more rugged to say the least, but do give the hunter an opportunity at shooting a true monster brown bear. It has been said that my bear hunts are more of "gentleman's hunt" with the luxury of relaxing around a campfire enjoying the flora and fauna in generally mild weather.
It is common for us to see black bears and wolves on this hunt and I encourage all brown bear hunters to tag up for both. There are also opportunities to catch King salmon, steelhead, trout and bottom fish. Fresh fish and crab may be part of the daily menu. This is a great hunt for father and son or daughter or even husband and wife looking for their first bear and a true Alaska wilderness experience. Please take a look through our photo gallery to see some of our bears and get a feel for the unique type of hunt this is.